How To Get Facebook Timelines Before The Official Release
Kiss goodbye to your old Facebook profile by spicing up your profile page with a spanking new interface called Facebook Timelines.
Not sure if you choose to love or hate them, Facebook is transitioning not only as a social media tool but to a more personal level by archiving your events like a diary!
To enable this before it's official release on the 1st of October (cmon, using it early is privileged!), all you need is to go to Facebook Developer, and follow thee steps. It will take you less than 2 minutes to get this done.
In Facebook Developer App (https://developers.facebook.com/apps), click "Create a new app".
Choose and key in a random name in the first two boxes and click "next".
Then click "Open Graph" located on your left menu.
You'll be presented with a page. Just keep clicking next until all the phases complete (3 pages altogether).
When done, just go back to your normal Facebook home page at at the top of your news feed you will find an invite to use Timelines.
Job done
Easy peasy huh? Here's mine as example: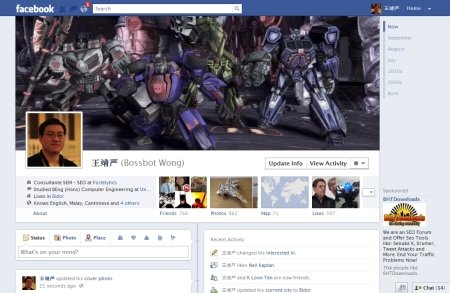 Alternatively, if my instructions is not clear, just check this video out (it ain't mine though)
Enjoy Facebook Timelines!