Goodies From Pak Lah: More Petrol Hike
It was confirmed now that the 'goodies' from Pak Lah did came in the 'form' of petrol price increase that was being announced just a minute past midnight today. What was seen as a drastic approach has caused the toll to the rakyatl. Petrol increased to RM2.70 (+78sen) from previously RM1.92, and diesel increased to RM2.59 (+RM1.00) from previously RM2.58.

The ironic thing about all this is DPM Najib 'assured' Malaysians in February 2008 that there will be no increase after the general elections and the proof can be seen here, thanks to Bernama;
KUALA LUMPUR, Feb 25 (Bernama) — Deputy Prime Minister Datuk Seri Najib Tun Razak today dismissed assumptions of a hike in fuel price after the March 8 general election. "No, it doesn't necessarily mean price hike," he said when asked if there would be a rise in fuel price after the polls following the increase in fuel subsidies paid by the Government last year.
Najib was speaking to reporters after Prime Minister Datuk Seri Abdullah Ahmad launched Barisan Nasional's (BN) progress report and election manifesto, themed "Security, Peace and Prosperity," here. In his speech at the launching, Abdullah, who is also Finance Minister, said that last year, the government paid RM43.4 billion for subsidies, of which RM35 billion was allocated for fuel.
Commenting on the BN's manifesto, Najib said that it was the BN's government Key Performance Index (KPI) for the last four years and is assessed by the rakyat. "I believe this document is the basis and measurement of our success as well as our future direction," he said. Najib said that this was because the manifesto was not politically rhetoric but contained substantive inputs.
He said that the specific contents in the manifesto made it easier for the rakyat to see in detail all that had been done by the BN government to develop the country. "The rakyat can also know where the BN government will lead them to," he said.
The Manifesto themed "Security, Peace and Prosperity," outlined what the government had done in the last four years after the huge mandate given by the rakyat in the 2004 general election. This is also the first time the government unfolds its progress report before the rakyat.

How come one can make promises now and decides to break it afterwards? Is this a form of punishment to the rakyat who had their votes swung to the opposition recently? If it is, they might think the next GE is 4-5 years away and by the time they get there, the rakyat might have already forgotten about it. Hello, scar can remain and if it is not because of your postal votes, Pakatan Rakyat might have already topple you guys so please don't forget.
[youtube]http://www.youtube.com/watch?v=kvFYLsHxjXo[/youtube]
First you told us you aren't gonna get married and all of the sudden your MSM machinery swamped us with the news of your 'holy matrimony'. Malu-malu kucing konon. Porrah! Then you told us parliament will not be dissolve that soon, and just less than 24 hours after that statement was made, you dissolve the parliament without shame hence the GE. What lah, cakap tak serupa bikin!
Though BN lost 5 key states, you are still ignorant of what the rakyat have to say and the messages they have shown you in the GE and now, just like Datuk Seri Anwar says (predicted) before the GE is goddamn true, you failed us again by failing your 'talk the talk' cos you fail your 'walk the walk' big time. Look below how bad we failed;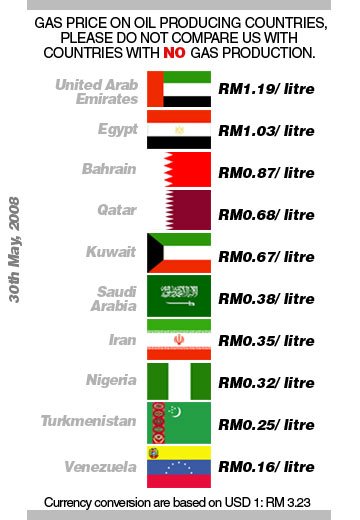 And the ironic thing is, we are a net EXPORTER just like those countries above, but why Malaysia is 2 times more expensive compared to them though we are pretty much the same?
Anyway, I would like to congratulate your staunch supporters who are so goddamn rich to survive this predicament during this tough time in your self-made inflation. A big fucking thank you for voting BN and I am glad you are all goddamn happy to spend your hard-earned for nothing.
BN going to be Be End soon. Bah!