Google Chrome – Awesome!

Honestly speaking, I am sucker for lightweight browsers just like Firefox when it was first released. After versions and versions of release, Firefox had turned into a monster just like it's Microsoft counterpart, the IE, and my escape – Google Chrome.

This browser simply rox to the core!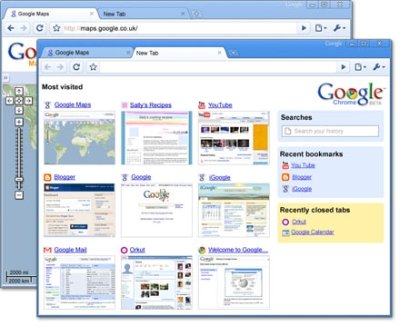 Smooth and sleek sophisticated look, Chrome will definitely outrun Firefox, SeaMonkey and IE in terms of sophistication and speed. If you are a big fan of Google's products, this is a must have as Chrome incorporate all Google toys within one single package.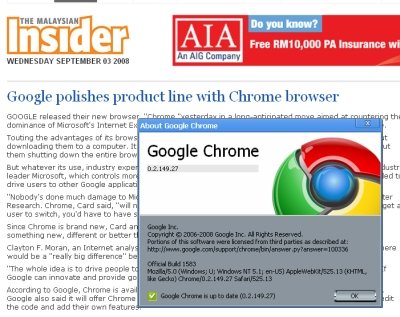 Even Chorme made it to the frontpage in Malaysian Insider
The cheekiest part during installation of Chrome is they allow you to import all your bookmarks, saved passwords and cookies from Firefox to be exported into Chrome automatically! This is truly an attempt to migrate all Firefox fans into using Chrome which I think is a pretty smart 'marketing' move for Google!
My hopes is Chrome will stay lightweight and not ending up like the latest FF 3.0 that hogs your memory and consume your resources monstrously.
To download Chrome, get it here, and you will not regret it I assure you!