My Super Gran

My gran is 88 today, born in 1919 – 3 years before the Titanic sank in the Atlantic Ocean. She was strong and agile, abit senile but she still remember us as her obedient grandkids. She used to cane me and bro during her trips down here as we were very naughty at that time. We use to run away and hide under the table when she was armed with a cane. I admired her courage and devotion to god, and also her wisdom and knowledge albeit her aging memory.

Coming from an aristocrat of Chinese Kapitans from the old Batavian Dutch colonial days makes her strict, methodical and stern. Hierarchical rules of respect based on title and age was a way of life back then in the clan's home. Since we were unused to the rules, we are subjected to her bickering and canings. But that doesn't deter us loving her as she was a very compassionate, just and caring typical Baba-Nyonya granny.
In 2005, she went through a near-death experience that we almost lose her. Our family was in a state of emergency and we rushed back to Indonesia to see her. She was glad that we came thus regained back her confidence to live again. It was a terrible ordeal, but we were glad that she was okay.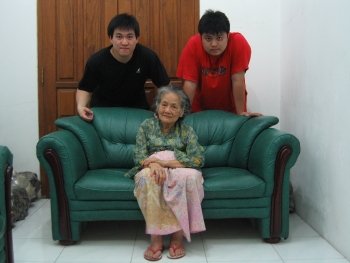 Gran among her giant grankids. .

Eh? Is that gecko on the wall stealing my rice?
Despite her age she can still crack joke and tease us bachelors grandkids. 'When are you gonna get a girlfriend?' she asked. I said 'You find for me then'. And she replied; 'If I were to get you one, I am worried she is not modern enough for you'. 'Why not?' I asked, and she replied cheekily; 'Cos those girls are from the village and they ain't got the same mentality as you cos you know what? My grandsons are smart but picky!'. OMG.
Coolness? I just love her spontaneity and wittiness. This is for you gran;
Gran,
You're 88 today a grand birthday,
God bless you every single day,
Happy always smiling and gay,
Thank god for your blessings till today.
God bestowed you good health,
God bestowed you good wealth,
Your advice and motivation makes us melt,
Your endurance and love forever felt
You keep this family united and strong,
You distinct clearly the right and wrong,
Even we are separated miles and thousands furlong,
Our thoughts and prayers for you are forever in our song.
Please live to see us succeed,
Please live to see us married,
Please live forever proceed..
To bind this family unified and neat.
God bless you gran!