Google's New Interface

I frequent Google everyday for my searches and researches and I am a big fan of Google products. Today I have discovered from some tech blogs that Google had a new interface. I was abit skeptical at the beginning as this used to be a rumour before. It seems like Google really did a make-over on their search engine interface making it fast-loading thus streamlining the performance.

This is good news.
Nevertheless, I still find Google persisted to be the most streamlined search engine in the world even before their current make-over. What they are doing now is just making Google better!
To discover Google's new look you have to paste this Javascript code in your browser's URL at Google.com:
javascript:void(document.cookie="PREF=ID=20b6e4c2f44943bb:U=4bf292d46faad806:TM=1249677602:LM=1257919388:S=odm0Ys-53ZueXfZG;path=/; domain=.google.com");
Just codes, without the http:// shit. Hit enter.
If you are on Google regional sites (non .com) such as Google Malaysia (.com.my), Google Singapore (.com.sg) etc, you must log out from your iGoogle first (if you are logged in) and you MUST point your browser to Google.com as this Javascript only works in Google.com. I tried modifying the domain=google.com with google.com.my but not fruitful. 😛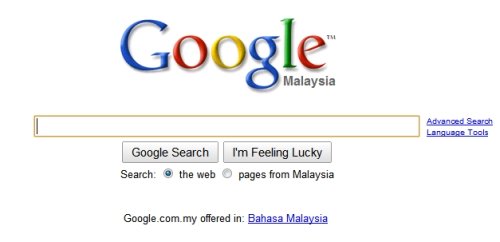 Before: On google.com.my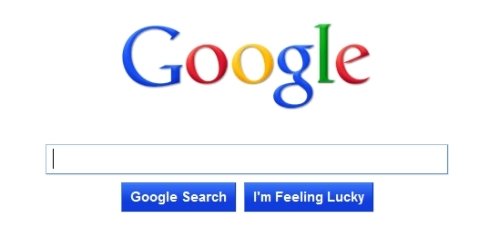 After: google.com
Reload (F5) the page and tadaaa, you got a new sleek look for Google! Try querying and look at the results.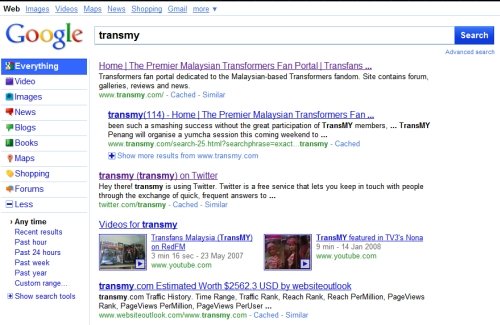 The effin' neat menu on the left.
Good on you G!