Kitbash: Protectobots Homage
Robotcon 2007, a Transformers event where TransMY was closely involved prior to the Transformers Movie release was truly an inspiration for me to come up with this project for to 'establish' TransMY-themed Transformers realm that was geared up for future exhibitions and conventions. This project will be a debut to the 'launch' of more locally based TF kitbashes so that more members and fans might take up, thus pursuing this sub-hobby of kitbashing/customising as a main hobby apart from just collecting it. Perhaps this approach might spark ideas of more talents to get involved in this ever expanding hobby of collecting and modeling.

The project I am relating here is a homage project dedicated to the ever-famous Protectobots, an Autobot sub-factions that largely made up of emergency and enforcement vehicles which was my favorite sub-faction in the Autobot faction ever.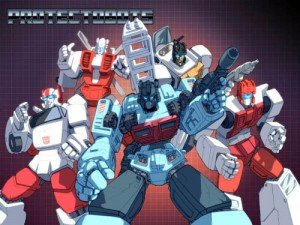 Protectobots: Hotspot, Streetwise, Groove, Blades, & First Aid
These are my candidates of my soon-to-be kitbashed Protectobots, a homage to their G1 counterpart. The project costs RM450 with 5 bots to be bashed. Not beng a kitbasher myself, I am handing it over to Ryukaze and he got me a reasonable quote for this. Many thanks to Ryukaze, who was a resident member in TransMY, expert in kitbashing and modeling. He was the gem our group ever had! To this date, he had already bashed few hundreds of collectibles belonging mainly to TransMY members that makes him an awesome expert modeller in Malaysia.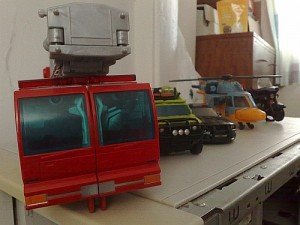 My candidates – RID Optimus Prime as Hotspot, Movie FAB Ratchet as First Aid, Movie Barricade as Streetwise (then changed to Movie 08 Bumblebee), Cybertron Evac as Blades & G2 Road Pig as Groove.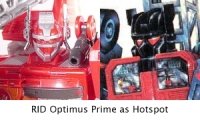 RID Optimus Prime was chosen firstly because this was my favorite Prime mold of all time. The toy was handsomely made almost no flaws apart from attaching the armour which was part of the second half of the firetruck, and the main part of the robot as the truck cab whilst in vehicle mode. The attachment mechanism is not solid as it falls off easily. Apart from that he is almost perfect with super-poseable arms, limbs, torso, head and feet. The engine ladder was extendable making him a formidable fighting machine. Critics say why not choose Cybertron Optimus Prime for the role. As this project is all about homage therefore I am trying to recreate a near resemblance as accurate as possible. Cybertron Prime was too futuristic and therefore, is a no-no for a candidate.
Cybertron Evac as choosen as Blades because he was the smartest looking helicopter around in the Transformers newest generation realm though he doesn't look as 'blady' as his predecessor where landing blades are used instead of wheels. Through research, I haven't come across any new generation TF with landing blades. The closest was Transformers Universe Whirl, but being G1'ish, I hated the fact that he had limited posability unlike the newer generation TF molds. On the other hand, being an attack copter in vehicle mode doesn't go well with humanitarian cause that the Protectobots had. This opinion was shared closely on why I have not chosen Movie Blackout & Energon Bulkhad as a candidate though they were sturdy & well-built is due to similar reasons. Anarchic machines just doesn't tag well with humanitarian rescue machines!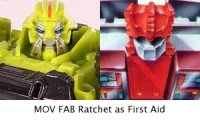 The biggest disappointment of recruiting the bots in this project has got to be First-Aid. This is because there is no van-bots available in the new generation mold. The closest was Energon Towline, but the toy & character itself was crap given the van mode was quite good and futuristic. Crap has to be the bot mode as it lacks composure and aesthetics. It was cheaply designed though it was meant to made Towline to look more lethal with his accomplish, a bike cum-cannon drone that was horribly designed. Since Fist-Aid doesn't come with a partner-in-crime for both modes, Towline is definitely a no-no. I would consider if the drone folds in, and combine with the main body instead of being a separate a horrible-looking like drone. I end up selecting FAB Ratchet as a way of create proportional harmony in terms of size with RID Prime & Cyb Evac and that is why I am not selecting the Voyager sized Ratchet. The downside of FAB Ratchet is it's posability. The leg doesn't balance well and hopefully Ryu can do something about it.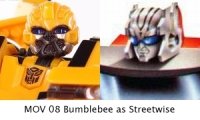 The toughest choice that made me switched my choices 3 times is Streetwise. Ironically, TF has ample of cars to be chosen as a candidate, but the reason the choice has been hard is because the choices available are either too 'sporty' for be a cop car or to crappy as a bot mode. Is not that I have against anything against a cop car being sporty, but the fact is because I am more obliged to stick to the original concept or else the point of making it a homage would fail or far-fetched. Barricade was my first choice as kitbashing it would save alot of time as the figure is already equipped with sirens, plus it was close to the real thing, a standard cop cruiser. The turn-off was the bot mode has a very monstrous look, not only the face but the extended arms, wretched posture and supposedly claw-like fists doesn't go well with the 'humanitarian' theme emphasis. We wouldn't want a cop to be that unfriendly in the first place, and therefore he is out. Second choice was Movie Swindle; I love the car mode which was a nice decent saloon car very closely resembling a real-life standard cop cruiser. After careful consideration, I reject the choice as I don't buy protruding chest cannons, unhelpable single-eyed drone head and high-heels for a supposedly friendly humanitarian themed robot! Third choice that I eventually agreed to has got to be 08 Movie Bumblebee. I understand that the Camaro was too sporty but the plus points is he had a steady built in bot mode and he doesn't have any threatening attributes on his body like Barricade does thus making him the best choice. For that, I have to obtain siren lightbars from eBay to honour his new form.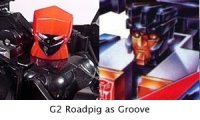 Also tough in the choices was honouring Groove, the little cop bike in the team which was the smallest build character. Finding the right candidate was tough as well as there were not many bike-bots that closely resemble a standard traffic cop bike. I did came across Cybertron Lugnutz for consideration, but too 'Hell-Angel' like. I didn't want Groove to inherit look of a street thug. Did consider Movie Arcee but the bot boob and mecha high-heels was definitely a turn off. I didn't wanna end up having a transvestite enforcement officer. After much consideration, I am going back to the past where pre-new generation molds are in the process of paving way to much better enhancements that is the G2's. My choice was Lasercycle Roadpig where the choice was super posable and the best thing is, it was a Honda Goldwing where most of the traffic cop bikes in the world utilize it as part of their enforcement machinery. He doesn't need much of a fix apart from his vicious ninja-like face plate that makes him too hostile to be a Protecobot. I bet Ryu can tackle this bot rather easy as he only need much of armed enhancement and a change of head that do Groove justice.
Upon completion, I will credit Ryu big time for this and look forward for future projects for him to work with. I am keeping my fingers crossed for this project and hopefully it will be fruitful paving the way for more locally made kitbashes for fan and hobbyist exchange in conventions and Transfans gatherings. I am going to call this group Neo-Protectobot for TransMY realm and will start thinking of ideas of having more homages made to the all-glorious G1.