Moors Outback Cycle Ride

For the first time, I went for a cycling 'expedition' to the rural areas of Plymouth. Bought a bike few months before that, but only to get it assembled today. The bike is a discounted Sterling mountain bike which I got it for only £60 after pairing up with a colleague. The bike was red in colour which is a colour that I dislike. But can't do much about that as the choices offered are only RED. Damnit.

I used to love cycling very much, 1 hour at least and that was during my schooling days. I used to participate long distance expedition with my fellow scouts via district organised activities, sometimes with Rakan Muda. I've been to Pangkor, Lumut, Teluk Batik, Parit and Bota with a bike!
On sunny weekends and afternoons will cycle up to the oil palm estate and the remote areas of the town. Even to mining ponds and river upstream. My bike took me all over the place. It was one of the most momentous moment of my childhood. Damn, I love those days.
Today's cycling is to bring back those memories – down memory lane, though not back home, but it was certainly a new experience of doing it here in England.
The new bike of mine was transported to Dave's place unassembled. We rip the box out and we assembled it as fast as we could using a 3 man power. Imagine that, an unassembled bike only took us nearly 45 minutes to complete plus servicing and testing. We inflate the tires and do a quick check, calibrating brakes and pedals and walla! We go a bike on da go!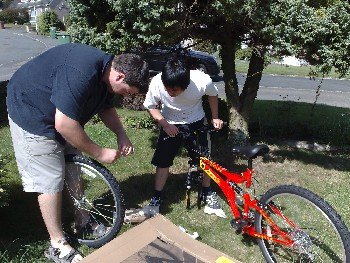 'Hey, where this come from?'

Out of the box!

Not a Unicycle Dave!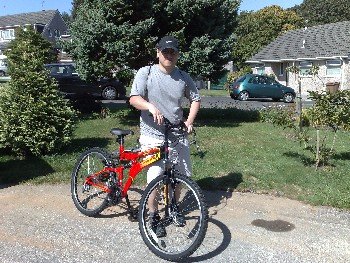 I look bigger than the bike
Our ride starts from Dave's place at Frensham Avenue, through Buena Vista Drive out to the busy stretch of Plymbridge Road also known as the B3492. We cycled past 12 streets down to the south east of Dave's housing area . We rendezvous at the roundabout leading to Novorrossisk Road, instead of heading further south we proceeded east down to Plymbridge Wood. The road down to the entrance of the cycle path is shady, covered by lush vegetation and trees giving you a sense of ease riding down the steep road corners. Not so bumpy but the steep makes you gaining momentum skidding down the road without even a paddle required.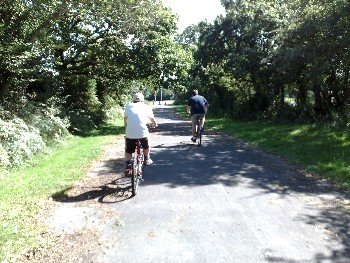 Off we go!

Fat club. Furn fhose falories fast.
We changed to the National Cycle Path heading northwards of the woods. Our ride brings us to the abandoned quarry and scenic woods and stream with farmlands and cattle visible in the horizon. The ride was very relaxed as it was on a flat terrain of plains. On several occasions we need to paddle a little bit more to ascend slopes and the rest of the rides are as easy as ever. I realised I wasn't as fit as my youthful days when cycling its truly relaxing as really relaxing! As for now the ride does torture my butt and back a little bit. Since the bike was new, I needed the best bike lock to keep it safe. I was also indeed suffering from the hard seat! Though cushioned, but still painful.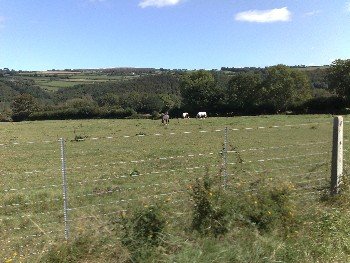 The farmlands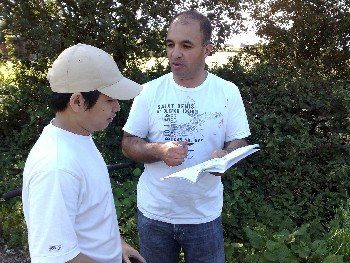 Caught by surprise

Pay the summonses here!
Half way of the journey we were caught by photographers who happened to be one of ours. I mean as people from the University where we used to study. Two of them were on an assignment to take scenic pics of cyclist who uses the National Cycle Network. So happens that we look 'photogenic' enough to fit in, they took us in to be one of the cover models in the University's new prospectus! They were lucky that we happens to be multinational with Dave a British, me a Malaysian and CJ an Indonesian, we just gave the photographers a boost in their assignment! They 'let' us go after few rounds of cycle about with them taking shots of us, well..nearly 6 times? We bid farewell after doing their 'papers', & proceeded northwards to Clearbrook.

Time tunnel. NOT!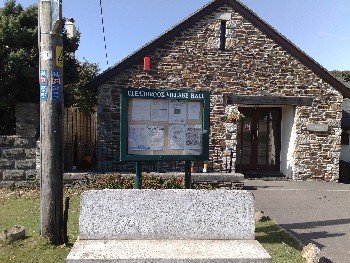 Village of Clearbrooke.

Country roads.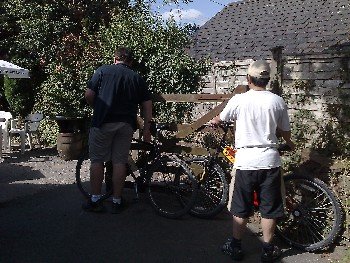 Disembark for break.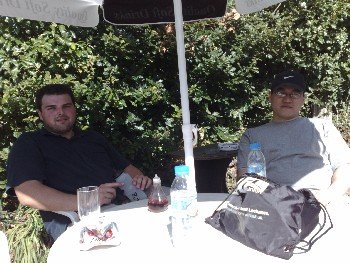 Time to rest.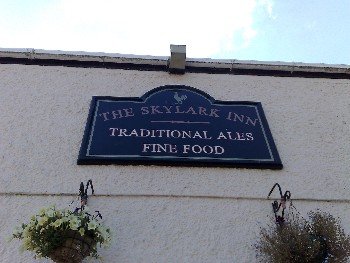 Skylark Inn. Not going in cos closed.
We were indeed exhausted and thirsty, not to mention hungry especially me who haven't got anything since morning. Our chances to replenish our tummy and throats was shattered as the inn was shut. The disappointment was not only experienced by us but also to other cyclists who happens to stop by to quench their thirst. We didn't fret, as soon as we take our feet break, we proceeded towards the east towards the junction adjoining Plymoth-Tavistock road, the A386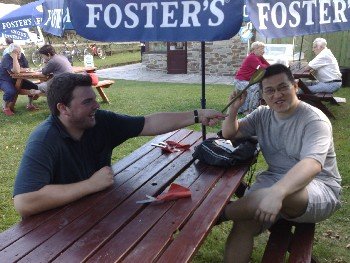 Makan time.

My roasts.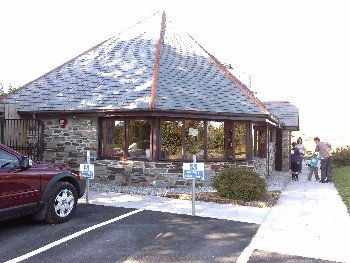 Dartmoor Diner, Tavistock Road.
We stopped at the Dartmoor Diner, a famous restaurant located on the side of the A386 road. This place is famous for travellers who stop by for a quick snack or a break from driving exhaustion. I had a roast with plenty of gravy and chips, with some shandy to quench my thirst. Just before reaching this stop, I was almost met with an accident as a crazy female driver who tried to avoid us cycling beside the road, hit a cone in the middle of the road thus ricocheting towards my front tire. Since we are going downhill without paddling, my front tire eventually get in contact with the bloody cone and causes my bike to wobble. In that state of panic to get into grips with the bike, my shoe lace caught in the gear cog thus dropping the chains. Dave who witness the incident stop by to lend a hand. We managed to sort the problem out and proceeded to the pub.
Our break took us nearly an hour as to fill up our tummy. Right after that we proceeded down south to Dave's place, and played Ghost Recon until midnight and left for home with CJ. I left my bike in Dave's keeping as I have no space in my bedsit to accomodate the bike. Will definitely find a day to do it again. Reached home tired but overjoyed.
It was indeed a a fantastic Sunday!
Here are the journey of my cycle ride exclusively geocoded in Panoramio, a geo-tagging site owned by Google Earth. In the map, I have featured some photos selected to describe our journey. Enjoy!