Shades For 40
My shades arrived today as the latest add-on to my camera after winning them in ebay 4 days ago. The item was immaculate though it wasn't genuine stuff from Canon as they comes with proper slot to snap it to protect the LCD, hence no problem of worrying that this component will fall off.

The only thing that is abit dodgy is the enclosure to shut the LCD from the shade. The shade was made of folded enclosures of the top, that forms as a shade when it was flipped open, and 2 more enclosures which was positioned left and right that could sprung open when the shade was opened.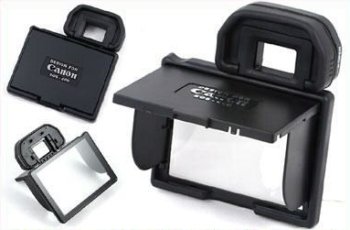 The only problem is the left & right enclosure will continue opening and that is the main problem when you wish to have a quick preview while your hands is busy with something, you might end up having trouble closing it as the enclosures are really stiff to close.
The stuff is quite flimsy at it is really cheaply made. Chinese stuff you know what I mean. That suffice for bright outdoor shoot when you wanna get away from the sun glare.