Tamrac Expedition 5X Photo Backpack
I got a photography backpack at last! It was Tamrac Expedition 5 photo backpack. I got it from ebay for a discounted price. The condition was awesome, minty fresh and new. It was a good bargain though. This was actually my second photography backpack. The first one, a Tamrac Expedition 4 was mistakenly purchased. I dislike it as it simply does not help my lens expansion.

I sold them off again in ebay and bought Tamrac Expedition 5. Very pleased with this one. Tamrac Expedition 5 was actually a mid-size pack for suitable for a wide range of photo equipment.
The internals offers foam-padded protection and quick access to multiple SLRs, lenses, flash and accessories. The main compartment is completely foam padded with numerous adjustable, foam-padded dividers to protect digital or film SLRs, 5-7 lenses, and a flashgun. What's fancy is the compartment does includes a laptop compartment for a 12 inch laptop, BUT the laptop must be a slim laptop. It is not suitable for standard sized laptop, which I see it a downside.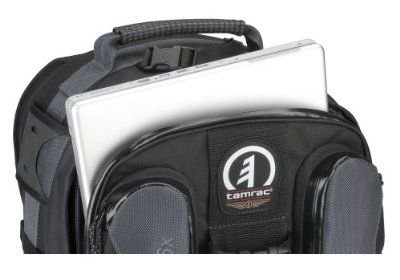 The internal dimensions is W28cm x D13cm x H34cm, external dimensions is W32cm x D25cm x H41cm. the bag contain foam padded dividers that are reinforced with rigid plastic. There is a two window-paned mesh pockets inside the front flap with foam padded platform in the bottom for shock protection. The outer part contain a lock down rain waterproof flap. Ideal when you are running away from a rainy weather while shooting! The front pocket is secured by a water-resistant zipper. The weight is 4 lbs. 8 oz.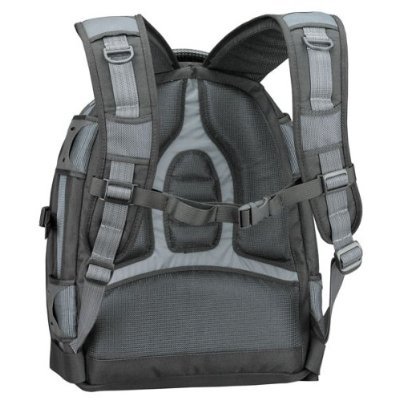 The top frontal is where two "wing" accessory pockets with water-resistant zippers organize and provide quick access to important accessories without disturbing the photo gear. This compartment is suitable to store extra batteries, memory cards, or cleaner kits. A tripod can be carried between these pockets with Tamrac's QuickClip tripod attachment system located below.
I could put up to 7 SLR lens attached where they were held on 2 vertical, foam-padded dividers. A Dual-Hinge Divider System lets a 2nd SLR be carried with a lens attached. Two Windowpane-Mesh pockets organize filters and accessories. They are transparent so you can see-through what you have pocketed. The state-of-the-art harness system with Dual-Density Comfort Pads provides maximum carrying comfort while Air Flow Channels help keep you cool and dry during extended use.
I currently have 1 camera and 7 lenses in the bag along with extra batteries and accessories to the cameras. This bag is awesome in all aspects and I was very impressed with how rugged this bag is. It is incredibly well made and weatherproof as well as shock proof. Long exhausting walks is getting less cumbersome with the comfortable padded straps.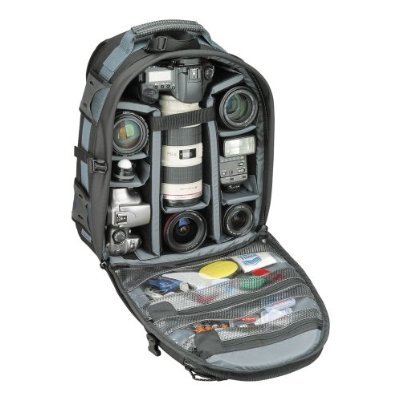 I can honestly say I haven't regretted the purchase for a second! Tamrac Expedition 5 is very well made with strong and robust construction with water resistant features made all around it. The zippers are damn strong embedded tough in a hard shell.
I would recommend this all rounder bag. Suitable for any season and weather. Suitable for serious photographers with ample amount of gears. If you have 1 or 2 DSLR with 4-7 lens with extras like filters, cleaner kits, backup batteries, single tripod, cables etc with a love of outdoor and rovering, this is for you!
[phpbay]Tamrac Expedition 5X,18,625,,,,,,,,,,1,,,,,[/phpbay]