TransMY New Facelift Pt.1

After a year, TransMY will be getting a new facelift prior to the Robotcon, 3rd Gathering event and also the grand Movie release! It's time to celebrate the fandom with new aims and fresh start.
Till all are one!

This is the first facelift in a space of a year. First facelift was done by myself with some help from Skytq (TransMY member) who designed the image header. Back then the old template was based on dark purple with 2 narrow columns sandwiching the main column in the middle.
For this current facelift, I have used a highly-SEOed template from Rocketthemes, called RT Sporticus. Sporticus was made of 2 narrow columns populating the right side while the main frontpage column sits on the left side of the overall frontpage.
Both narrow columns on the right are for monatising purposes.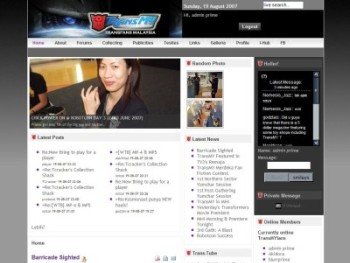 Girl botty powaahh..
Sporticus is robust as it was SEO-ed and designed so well allowing interactivity with it's slideshows and scrollers that creates an exciting browsing experience. Main column was enhanced with Joomblog module just like mainstream blogging style where comments can be made at the bottom most of each article.
Next facelift might take place in the final quarter or early season of next year prior to the release of Transformers Animated.
Fancy to be part of us? Join Transfans Malaysia (TransMY) at www.transmy.com