Putrajaya Road to Perdition

Note: This post is pro-Pakatan Rakyat post. If you are a 'Fuckatan BN', go butt-off.
"Shell-shocked. Jaw dropped. Eyes popped."
I came back late from work, switched on my PC and 'activate' my daily digest – Youtube, and straight away, a Malaysiakini clip that I subscribed locked my attention. As I sunk deep in the press statement made by Sivarasa Rasiah, PKR 2nd in-command, I was tad confused. I thought it was someone who had been sodomised 10 years ago is filing a case against Anwar Ibrahim. My curiousity landed me in Malaysia-Today, Malaysia Insider, Harakah & Anwar's blog and all serving the same news – SODOMY.

Ten years ago people might have conflicting thoughts of whether Anwar is really a homo, but 10 years now, it was crystal clear of what people can think of him. His credentials via his ceramahs proved everything worthy of him. Everyone from different race and religion supported him, thus made him a charismatic neo-Malaysian where all races looked upon as a saviour to the nation. He changed Malaysian mindset to revolutionise, but BN remained disillusionised hence this ploy to discredit him.
[youtube]http://youtube.com/watch?v=o_NcaboMp3I[/youtube]
After the hours passed which was few hours after Sivarasa's PC, Datin Seri Wan Azizah managed to spread the photo of the alleged 'mole', Saiful Bukhari Azlan who was made trustworthy by Anwar Ibrahim only to have his faith and trust abused by this faggot who might have money cashing in his account now in the most disgraceful manner. Dr.Syed Husin even said that Saiful has been accepted in good will seeing him as a very dedicated volunteer working with the party during the most recent GE but unbeknownst to them that he was actually a mole in operation.
There were few questions flying about my head – Anwar is so busy working about Pakatan Rakyat taking over the government this September. All that will certainly have him occupied with PKR top brass and meetings with other Pakatan allies. How the hell could he 'steal' some time in his expense in an affluent Damansara condo (the likes of Tivoli 10 years ago) doing all this? And how the hell a fit-healthy 23 year old could have himself 'restrained' by Anwar who is having a bad-back inflicted during his hellish torture in jail? That is impossible as he possess much better strength to avert himself being 'raped' given by his sheer size.
[youtube]http://youtube.com/watch?v=JrwgNllkQKI[/youtube]
Saiful in HKL reported that he was sodomised. The question is willingly or unwillingly? If it is willingly, then why the hell is he reporting? Is his motive to seek publicity or merely announcing to the public that he was a homosexual? If he was forced, why he did not report that he was raped? Why sodomised? And why only 2 days after the incident? Even a 17 year old girl can quickly make a police report of her being raped by Putra Height cops, and Saiful a 'bright' UNITEN student (or drop-out now should I say) cannot comprehend with what he had gone through instantaneously? That's absolute bollocks!
Only he knows the truth now!
Other sources say that the police had a role in this by forcing Saiful to admit that he was sodomised just like what they did to Sukma Dermawan and Azizan in 1998. OK, maybe Saiful is a good guy after all, a loyal staunch supporter but when the photos of him with UMNO leaders came to light, this theory can be quickly dismissed as it doesn't fit in the picture anymore. How could he explain? How could a PA of an opposition mingle so well with BN, their arch-nemesis top guns? If he was photographed in one occasion, we can say 'hey that's fine, maybe that's coincidental, but more than one occasion? How does it fit in then?
That just doesn't go well. Observe this way, no matter how good the terms are of two people from different parties, they cannot be coincidentally seen in many functions, many times! That isn't the norm and that is abnormal. The percentage of Saiful being the double-agent working for BN is high and undeniable. He is not forced by the police and that's for sure as he might be puppeteered by no one else but the dark fraternity within BN.
[youtube]http://youtube.com/watch?v=OsBfAn60JgY[/youtube]
BN is not only an evil machinery, but preposterous enough to play God by fabricating anything to their wants and desire just like past incidents, Baling/Memali incident, Operasi Lalang etc. And now they are repeating the same tactics with different players behind the scene and they are so hopeful that they could make Pakatan Rakyat into Fuckatan Rakyat crumbling to their smelly feet by using this obsolete tactic.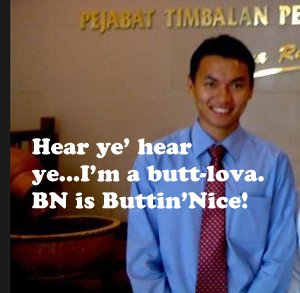 Nothing came clearer to the picture but our DPM in this matter. Who else fits the details? PM is busy sleeping and day dreaming, he wouldn't care less about what's happening. DPM who has had his credentials tarnished by the murder of Altantuya is still desperately trying to clear his mess, his wife's and his cohorts of the darkside. With Raja Petra's allegation has just elevated his headache into a migraine, there's no surprise that this new allegation against Anwar is an attempt to divert the public's attention from the recent hikes, BN's own infighting and his own scandals.
Putrajaya is near yet too far. BN wouldn't let Pakatan near it without a fight even if they can't wrestle it clean. They rather took it to the dirty mud as long the fort they're holding was left untouched, and they are now in a state of paranoia, and the biggest opportunist is definitely DPM who is counting time to dethrone PM. Seeing Raja Petra and Anwar are both nuisance and threats to his power, some drastic measure must be undertaken to ensure smooth transition hence the dirty work done via operatives like Saiful, and maybe others who are still unseen to us.
PKR must start extraction process, weeding out potential moles. I believe there is not only one, but many of them. They can be as close as their aide or as proximate as an ordinary member. Members might feel uncomfortable as it will create atmosphere of distrust and furore. They must understand the predicaments now and cooperatively adhere to whatever processes that they took as precautionary measures
General public will start speculating now and the news is spreading like a fire storm.
The Turkish embassy has provided Anwar a temporary safe sanctuary for now as a deterrent of possible assassination carried out against him. Let's see how this will end.
I hate to admit that if Pakatan Rakyat's agenda was diminished by this, I will be one of the many hopefuls who will be deeply affected and heart-broken by it.