Pimping For "Tiger Beer Regional Online Influencer Challenge"
This is a pimping post for a fellow TransMYian, Wilson who called about us getting mutually pimped but with a condition I must be part of his influencing campaign. The campaign is about  "Tiger Beer Regional Online Influencer Challenge", a contest run by Tiger Beer for selected bloggers who participated in a capacity as an 'influencer'.

I am not really sure how that works but it seems like participants who joined must form a fictitious football team as a proof that they have 'influenced' someone to join their team. At the same time they need to brag about this slogan – Why I Deserve To Meet Wayne Rooney.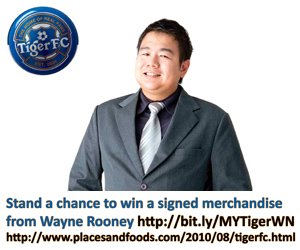 They need to 'pre-brag' about what if they get to meet Wayne Rooney in person, what are they gonna do with that opportunity such as go partying with him, hangout with him, booze with him, had a meal with him, get him to sign some stuff  or 'bodek' him for some official merchandise to 'tapao'. LOL.
If I am part of this influencing campaign, I would have asked Wayne Rooney to sign loads of footie merchandise for me to sell in eBay! Haha.
My host influencer, Wilson Ng will be competing with other regional countries along Vietnam and Singapore who ran the same campaign. And he assured us as team mates that if he wins, we will get to get down for pure debauchery, boozing heavily with Tigers. Yikes!
I hope he wins and get to see Wayne Rooney, oh…a signed T-shirt for me if you can, doncha forget 🙂 Support Wilson Ng by reading his post – Why I Am A Champion Like Wayne Rooney via his blog – PlacesAndFoods.com, and leave comments where appropriate.
[youtube]http://www.youtube.com/watch?v=e6PKFIuaIHc[/youtube]