Michael Lai Exits From P1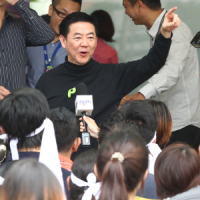 Citing personal matters as the main reason, Michael Lai announces his exit from Packet One Networks ("P1") today. His last day will be the 30th June, and CC Puan will take over his post after his departure to retain P1 in a continuous stance in a competitive telco market.
Petaling Jaya (5 June 2013) – Michael Lai is moving on from his post as CEO of Packet One Networks (Malaysia) Sdn Bhd ("P1") for personal reasons. He passes the baton to Green Packet Berhad ("GPB") Group founder and CEO, CC Puan who will lead the challenger telco to deliver its next phase of growth as the new P1 CEO.
P1 burst into the telco scene in 2008 with Michael at its helm championing 'broadband for all' via a more accessible broadband solution that is instant plug-and-play and more affordable. Since then, P1 had progressed to over half a million subscribers and notably, reached positive EBITDA since the last quarter of 2011; the fastest telco to do so in Malaysia's history. P1 had also secured a total of 50MHz of 4G spectrum on the 2.6GHz and 2.3GHz spectrum bands to pave the way for its full 4G TD-LTE transformation.
"I had the great pleasure to carry out the first part of P1, CC Puan and the Board's vision to see P1 take its place as one of Malaysia's leading 4G telco serving converged fixed and wireless broadband, and voice services with next generation technology. I pass the baton now to CC to assume the P1 CEO role. I believe he will be the best person to see P1 through to its ultimate goal," said Michael.
Michael is highly respected for his contributions to the information and communications technology industry both locally and abroad. He made P1 the Southeast Asia showcase for 4G deployments and secured P1 representation on high profile international bodies such as the Global WiMAX Forum Board and the Global TD-LTE Initiative Steering Committee.
CC said, "I thank Michael for his contribution. It will take awhile for us to get used to Michael not being the face of P1 anymore."
CC will step in as P1 CEO effective 1 July 2013. He had assumed the acting COO role since January this year to place focus on P1 and get deeply involved in its operations. According to CC, P1 operates in an increasingly challenging and competitive environment which requires the adoption of new and smarter strategies. He had earlier this year, launched a business transformation program to enable P1 to compete and operate more efficiently and effectively.
He said, "As founder of the business, I'm extra committed to see P1 succeed and will personally assume the P1 CEO role to enable me to directly shape P1's future and unlock its full potential."
CC is Group Managing Director and CEO of Green Packet Group which comprise of two business pillars, namely, as 4G device and solutions vendor to global telcos; and service operator pillar via P1. He founded Green Packet in the year 2000 in Silicon Valley, USA and in 2007, won the 2.3GHz spectrum license to kick-start P1, which began operations in 2008.
Tan Sri Datuk Dr. Haji Omar Bin Abdul Rahman, Chairman and Independent Non-Executive Director of Green Packet Group said, "With CC closer to the ground, he brings to P1 operations his sound strategies, ability to bring together resources, and diligence in implementation. The transition will be smooth as CC had always enjoyed a strong rapport with the operations team."
He added, "We thank Michael for getting P1 off the ground and taking it to where it is today. The Board is confident that CC as CEO, will get P1 to its top four telco goal."