Hooked On Ghost

I was never a fan of tactical shooter game as I have always been a fanaticist of only strategy games but Ghost Recon: Advanced Warfighter (GRAW) instantly hooked me up thanks to Dave, the devil of all gaming. It was quite sometime now since I have been doing some gaming as I myself not an avid gamer, just seasonal. The last game I played was Warhammer 40,000: Dawn of War. Have completed all the campaigns and even played multiplayer games with Dave, I went hiatus for while by not touching any more games.
I bought some budget games such as SWAT 3 & Commandos 3, but never had a chance to play them. I ended abandoning them somewhere beneath my file box. Its time to unearth them soon right after I finish GRAW I guess?
Well, I have been playing this for a month now. The game is considered old as it was actually released in March 2006. Like I said, I wasn't interested in it earlier only to have hooked up after Dave was playing it.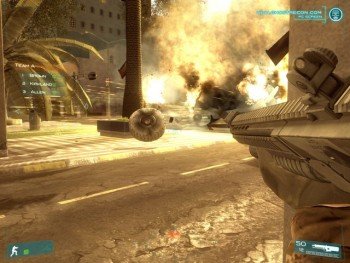 High adrenaline rush!
So far we have finished 7 multiplayer maps so far by teaming up with Dave & CJ and still playing. The toughest mission so far now is Quarterback. Still can't manage playing it without teaming up as AI's are good only if you have at least 2 human players.
GRAW which was also known as GR 3 is another franchise of Tom Clancy who is famous with his already established games like Splinter Cell and Rainbow Six. In this installment, GRAW centres around an elite tactical squad known as Ghosts which was part of the US Army. The characters are made of experts in their own field who was absorbed into this small wrecker unit to aid the US government in their fight against global terrorism (or should I say terrorism across borders) and the scenario of their battlefield took place in chaotic Mexico City in 2013 as coup plotters are fighting against the Mexican president, and his pact allies, the US and Canada.

You can shoot from the copter!
The story begins when a US spy plane carrying Guardrail IX was shot down near Nicaragua. Based on intelligence sources, it was believed that Nicaragua rebels have plotted with the Mexican rebels to have the device from the plane transported to Mexico City. The Ghosts are sent to secure the device back to US hands.
The Mexican coup plotter was lead by Col.Carlos Ontiveros, the son of Mexican General Ontiveros. The mission to secure the device was then aborted when a coup d'état begins in Mexico City during the time NAJSA (North American Joint Secuirty Agreement) was signed by US, Canadian and Mexican leaders. Instead of securing the device, the Ghost received orders of extracting the US president as their new assignment.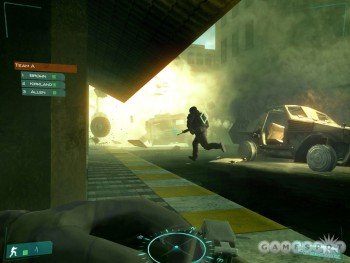 The success is all down to your teamwork and tactics.
The act of sabotage during the summit cost the life of Canadian Prime Minister, and force the Presidents of the US and Mexico into hiding. Mitchell, who was the leader of the Ghosts was immediately dispatched to safely extract both leaders.
The story line was indeed interesting as it gave you a sense of realism. To add to the fun, readily modded patched and features was made available to download, so you can experience better armament!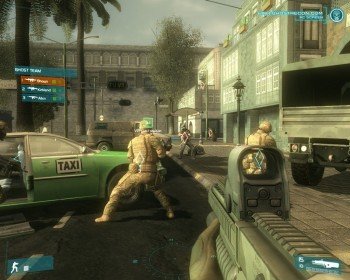 Urban warfare in a new flavour
The game is quite demanding when comes to your computer hardware. I have to chuck away my ol' Radeon 9200SE for a Radeon X1600 to ensure all the juices are squeezed to the max for optimal performance. I realise my HD in C:/ has already running out of space and it does severely affecting the game load time. The game runs best on Radeon 9600 above with above with recommended 256MB memory. As for your RAM, is best to have 1GB above and you need at least 5GB of space in your HD. Other than that, it should work damn fine. To be honest, this is the first game that forced me to change hardware just because of the sake of playing them! No other game that made me bow down for upgrades as much as GRAW!
For ya'll who have got problem installing them at the beginning, you can get some tips here. It has something to do with your corrupted InstallShield thingy that I have experienced as well. Just go to the source origin and delete it. Leave it to Windows to refresh a new InstallShield for that and it should work damn fine.
Right. Let me play now. Adios.