Infiltrated Alas

I have downloaded and tried AVG today, and to my surprise I have a 'guest' in my drive. My HDD was assumed to be clean all this while as my Eset NOD 32 has been running and working like charms preventing and safeguarding my PC.

The 'guest' resides dormantly in my C:WindowsSystem32 directory disguising itself as 'MY pics.exe' and AVG classified it as a Trojan Horse BackDoor Generic 5.LBS. Not really sure what it does but it seems to be posing a low-level threat to the machine as quarantining it is a piece of cake.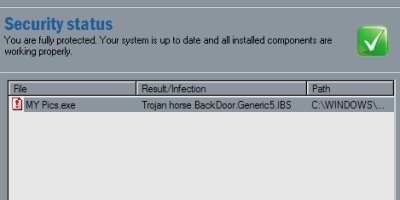 Uninvited guest. Scary sial.
This came quite a shock as I always assume my machine is damn safe. But I underestimate what this puny lil' misdemeanor can do while you are too overconfident about the security level of your machine.
I will never overlook things again, and the solution is; update or upgrade or even change new AV packages whenever there's a good one coming out.
Is better be safe than be sorry. Look out!