Malaysians: Young & Poor By 2030?
Whoa' thats scary.
Malaysia's relatively high population growth rate will see the country remain comparatively young over the next two decades but economic growth is not expected to keep pace with population expansion, according to a report by Bank of America Merril Lynch.

Most developed countries experience lower population growth than developing countries and thus become older as they grow richer but China and Thailand however, are forecast to grow old before they can become rich with more than 15 per cent of the population aged above 65 years in the next 15-20 years.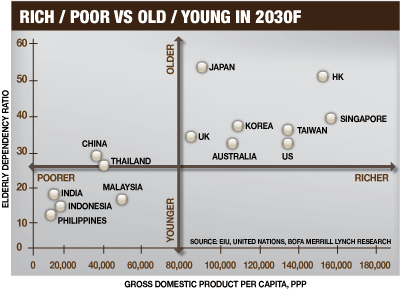 The forecasts are part of an analysis by Bank of America Merrill Lynch on the impact of demographic trends on investment opportunities.
It also found that the population in Hong Kong, Korea, Singapore, Taiwan and Australia are growing old fast but they are expected to remain among the wealthiest in the world.
By 2015, Malaysia is forecast to have an elderly dependency ratio (EDR) — population aged above 64 divided by population aged between 15 and 64 — of 10 with a GDP per capita calculated on purchasing power parity (PPP) basis of US$20,000 (RM64,950). Current young and rich countries such as Australia, Singapore and the US have EDR's of between 15 and 25 with a GDP per capita of between US$50,000 to US$70,000.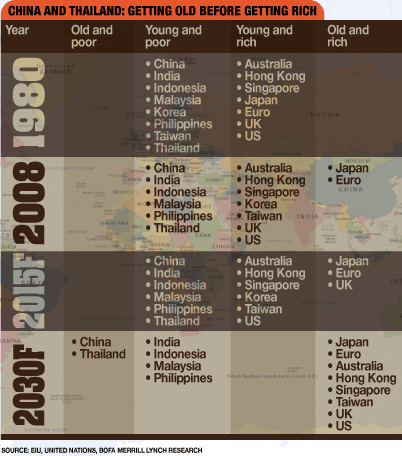 By 2030, Malaysia's EDR is expected to be about 15 with a GDP per capita of about US$50,000 while Australia, Singapore and the US are expected to have an EDR of between 30 and 40 and per capita GDPs of US$110,000 and US$160,000.
The report also suggested however that based solely on the ratio of prime savers — defined as population aged between 40 and 64 — to the rest of the population, the stock markets of China, India, Indonesia, Malaysia and Philippines are expected to outperform those of Australia, Hong Kong, Korea, Singapore, Taiwan and Thailand in the next 20 years.
It added that in advanced economies such as the US and the UK, the stock market "can rationally factor in the demographic trend, usually a few years ahead". It said that there is a risk of that relationship becoming "self-fulfilling" leading to decades of bear markets in those countries.
"The stock markets and financial assets are arguably most influenced by the mid-aged people," said the report. "Hence, it is not surprising that the correlation between Mid-Young ratio and the aggregate value of stocks traded is quite high for most Asian countries."
The report said that there were investment opportunities in the education sector in China, India and the Philippines unlike Australia and Korea which have the most highly education labour force.
It also said that Australia and Thailand have room for development in the private healthcare sector and that India, Philippines and Singapore lag in terms of public spending on healthcare.
-TMI