Bloggers Classified

So now the govt has interrupted the all-peaceful and tranquil cyber world of blogging, and for that the govt has come up with a set of 'commandments' though not official, but I am dubious whether or not to cry or to laugh on this 'decree' issued by our 'God'.

Zainuddin Proposes Classification Of Web Bloggers

May 05, 2007 18:29 PM
KUALA LUMPUR, May 5 (Bernama) — Information Minister Datuk Seri Zainuddin Maidin said today Malaysia has to classify web bloggers as professionals and non-professionals as a mechanism to prevent misuse1of blog sites.

He said he believed that professional bloggers were those who were more responsible in ensuring that their web content was based on the truth and not rumours2.

This classification will also facilitate the action to be taken3 those found to have violated the country's laws," he told a press conference at the Putra World Trade Centre (PWTC), here.

Zainuddin said certain people in the country had misused blog sites4 for their own interest and that of their groups, including by touching on matters enshrined in the Federal Constitution such as those of a religious nature and others that sparked uneasiness5 among the multiracial population.

"We have to control this6. It is feared that these (blog sites) will be misused by those who have an agenda to spread slander. By right, there should be a mechanism to control this phenomenon, including by classifying web bloggers as professionals and non-professionals7," he said.

Zainuddin said this was important in enabling the people to determine8 whether they could trust a certain matter and whether the blog content was the truth or a rumour that could cause discomfort or undermine unity.

"Placing trust in news based on rumours was a practice that existed before the advent of newspapers but the situation is different today when we have newspapers and television stations to disseminate information9," he said.

The minister said that during his recent visit to France, the Chief Executive Officer of the Nice-Matin Press Group, Michel Camboul, had mentioned the need for the French government to classify bloggers and expressed concern over blog sites having an impact on newspaper circulation10 and the buying of advertisements in newspapers there.

Zainuddin said the Internet had yet to be widely used by the people in Malaysia and if blog sites became an alternative press that forced the shutdown11 of newspapers, the rural people who depended on newspapers would be denied the right to information.

He reminded web bloggers not to touch on matters that had been agreed upon by consensus12 by the multiracial population in the country, such as the special position and privileges of the Malays, the Rulers, and Islam, so as to maintain peace and harmony.

— BERNAMA
My say on this;
prevent misuse1– try to sound holier than thou? By right you are the one who has already misuse everything granted by the rakyat to you. We elect you, we vote you and now you got our ass suffered with your orchastrated inflation and price hikes. Thanks to your misuses (first)!
truth and not rumours2 – your controlled media like TV3 and RTM spread more lies that any other media in this world. Like Anwar says recently in Ijok, TV3 itu cilaka! So that cilaka-ness applied well to you too.
action to be taken3 – what now? ISA for bloggers? Get a life. There are more 'criminals' in your cabinet than there is outside. Cronism, corruption, murder? (Mongolian case), whoa..just too many to mention.
misused blog sites4 – as long we adhere to our webhost/blog hoster terms and conditions are by right the most basic terms and conditions that we have already obeyed. Your accusation doesn't apply here because we don't have our blogs hosted by you. I even wonder if you understand what is the meaning of 'web hosting'?
sparked uneasiness5 – rakyat uneasy or you uneasy? Don't be smart by speaking on behalf of the rakyat when you don't even know the suffering of the rakyat. Only make visits during election campaigning doesn't help at all lah.
control this6 – control your corruption, cronism, inflation and the affairs of the rakyat first lah before you get your hands on us. You don't even know how to prioritise things. Go get a freshers course on management or what lah idiot.
professionals and non-professionals7 – you humilliate the intelligent by shutting them down in your ISA and ridicule the non-professionals with your boogeyman scare innit?
people to determine8 – the rakyat are smart and mature enough to evaluate and observe what is right or wrong. You are not in the position to tell the rakyat what's right and whats wrong. Oh, you are not even closer to a saint or prophet, should be follow you? NO. You don't even know what is the definition of logic.
disseminate information9 – your TV and radio stations share the same league as the media of repressive regimes like North Korea, Iran and Zimbabwe. Far from being transparent, you edit dance scenes of Anwar in Ijok like a Youtube amateur. Disseminate what? You diss better than you disseminate rightfully. Talk about toying around? You toy around better than a pre-school toddler.
impact on newspaper circulation10 – just like your TV stations, your newspaper caters fairy tales, myths and legends suitable for pre-schoolers which was an insult of your rakyat's mentality. We don't read censored rubbish like those. They best belong to your Majlis Perbandaran landfill sites.
forced the shutdown11 – you shut (temporarily or permanently) more local newspaper and magazines agencies down when they are not aligned to your doctrines compared to bloggers. Remember Sarawak Tribune? So now who is the biggest shut-downer? Cermin muka sendiri lah.
agreed upon by consensus12 – no one make sensational news more than you do. When everyone was chilled and relaxed, you are the one who freaked out more seriously than an average Singaporean ah lian or a sinile makcik. Your shock tactic doesn't work anymore as rakyat knows when you are 'momoking' about a small issue, you just dug your own grave deeper by feet.
So, what are the possible commendments imposed on us?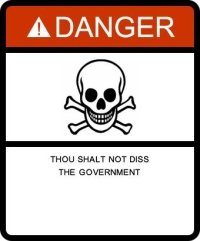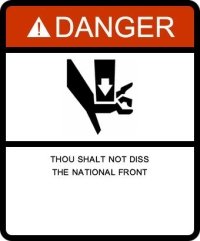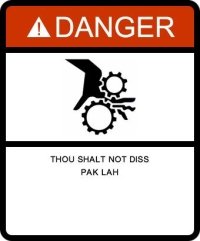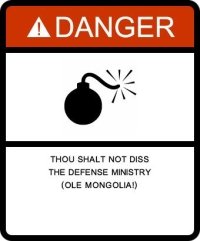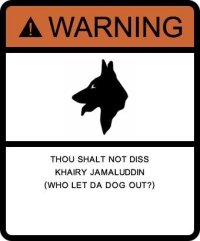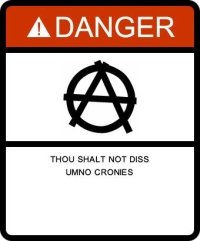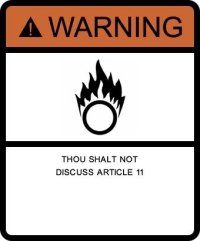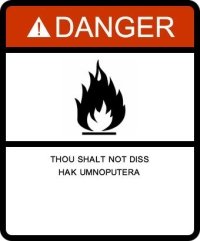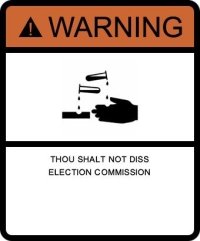 I rest my case.