The DIY Man For Chinese New Year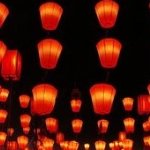 Well, this week is the final stage of CNY cleaning and decorating. While sis and mom was struggling with their little confectionery, I am working tirelessly on the ladder – doing some wiring for the lanterns and toasting myself in the hot sun doing some paintjob.

We had a firecracker micro flashing lamps with 8 functions chasing controller powered with a mere 2.5A. Besides the firecracker micro lamps, I need to power up 2 bulbs to be enclosed in a double strawberry shaped lantern suspended on both ends of the porch. Mom says the lantern is the 2010's style. However, I am unable to verify that.
By doing my own DIY wiring I am saving RM50++ unlike my neighbours who spent the same amount by getting an electrician to do their decorative lightings. I wonder what their men in those houses do!
I combined the firecraker micro lamps with double bulbs to power up the lantern connected to a single 3 pin plug with a 13A allowance while the micro clear lantern flash lights with a 2.5A allowance was powered on a 2 pin plug. The firecracker micro lamps had a dodgy 2-pin plug. I had to discard the head and replace them with a 3-pin having to tackle with tiny filaments to be fitted in the copper pins. Altogether 2 plugs powering up 3 items on the porch ceiling. I had them done in 2 hours. Not bad.
Next is the gate, wall grills and moss-infested wall. I had to do a repaint on that. The moss is my biggest headache. But I had a home made solution to remedy this. Try using clorox bleach OR vinegar. Pour them in the spray bottle and dilute with some water. However, you can choose NOT to dilute them with water if you want. As a rule of thumb, I used one part of the bleach with 2 parts of water. Adjust the spray nozzle so that the spray will produce a sporadic spread on the surface.
Just point towards the moss clutters and fire. The bleach will instantly kill the chlorophylls of the moss thus causes discoloring by turning them to white. Hose them clean. Allow them to dry and you can start painting!
Another technique for weatherbonding (my cheap solution), try adding some bleach and some Dettol solution in the paint (or either one). This works well for dodgy walls that had problems with moisture, cracks and large vents. By painting this through, the wall will absorb moisture from the solution (bleach + Dettol) into their surface vents hence retaining the chemical substance for sometime. The mosses will find it difficult to grow as the moisture dissipated from the wall vents are too toxic for them.
Hope those tip helps!
The rain has just hampered my efforts in finishing the painting today. I guess I will need to resume work tomorrow and finishing them off.
Will chill on Friday, hopefully!
Related Blogs
Related Blogs on The DIY Man For Chinese New Year